Welcome to another week of the Fitness Friday Blog Hop inspired by
Jill at Life as I See it [Fitness, Health & Happiness].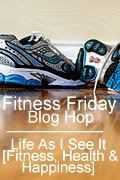 This week I am going to focus on a workout that can be sued while you are on vacation and don't have access to a gym. The workout is called crank or crazy eights because you do eight exercises for eight reps and eight times through and trust me this is a killer workout!
The eight exercises are:
180's
Burpees with a jump squat
Mountain Climbers - 16 total
High Knee Run - 16 total
Arm Jumps - Heels to butt - side to side - on your arms...x8 total
Spiderman Jumps x 8
Prone Jacks x 8
Pushups
I usually time myself so and write it down so that I can keep track of my improvements. I will be away in a few weeks and I plan to do this workout several times and pair it with some running to keep myself in shape while I am away.
Don't forget to join in on the Fitness Friday Blog Hop.