Welcome to another week of WIAW inspired by
Jenn at Peas and Crayons.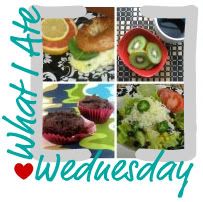 Joe and I had decided to go to
Typhoon Asian Bistro
in Hingham because we had Groupon for their and we wanted a place where we could celebrate our five year anniversary which was on Wednesday. Boy does the time fly I can't believe it has been five years already and that our wedding is about a year away :).
We started off with an order of the chicken lettuce wraps and a few drinks. I went with the cucumber mojito which was so delicious and refreshing.
For dinner we decided to choose a few things and share do we went with the thai curry chicken, steamed shrimp vermicelli and typhoon spicy chicken which we got grilled instead of fried.
Curry Chicken
Steamed Shrimp Vermicelli
Typhoon Spicy Chicken
The food was all very tasty but the curry dish was definitely my favorite which worked out well because Joe loved the spicy chicken.
I couldn't stop eating :)
Question: What is your favorite Asian dish?