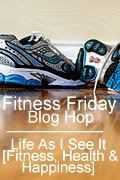 I have heard so much about the
100 push ups challenge
so I finally decided to take the challenge on. The best part is that you can download an app to your phone so you know exactly what you need to do each day. They offer an
android app
and an
iphone app
so most all phones are covered, which I love!
I love doing push ups (yes I do real push up on my hands and knees) every night before I go to bed so this will challenge me to keep doing more and more. I need to get these arms ready I have about a year until my wedding :).
Before beginning the challenge you must take an initial test which will highlight your current fitness level and determine where to start and how to plan your push ups training program. Once you complete the initial test you are ready to begin the challenge on your next day. I just started the other day so I will be sure to update you as I progress. My initial challenge I completed 12 push ups with good form. I know I could have done more but I would rather start off slower.
I am heading to the Jersey Shore today (T-shirt time!!!) for a wedding so wish me luck on the drive down. It took Joe 8 hours yesterday so I am praying traffic isn't too bad today.
Question: What are your feelings on push ups?