Welcome to another week of Fitness Friday inspired by
Jill at Life as I See It [Fitness, Health and Happiness].
Hop on over to Jill's blog to join in on the blog hop.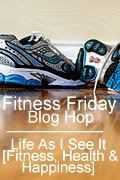 Lately I have been hating cardio at the gym. I am running a lot more since my training has started for my fall marathon, so when I'm at the gym the thought of more cardio isn't too appealing. Just recently though my gym purchased two StairMaster machines. Although this is cardio I feel like I get such a great leg workout as well that I just love it! Plus I get super sweaty so I feel like I'm getting a great workout.
I typically do 20 minutes which consists of intervals of 90 and 75 steps/min alternating between skipping steps, side steps and regular steps. 20 minutes is more than enough for me on this machine, I'm usually pretty sweaty and tired after.
Question: have you ever tried the StairMaster, if so what is your favorite workout on it?