Welcome to another week of WIAW inspired by
Jenn at Peas and Crayons
. This week I decided to focus on one delicious meal I had out to eat this week.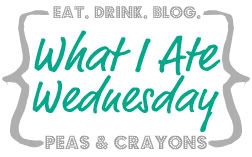 My mom's birthday is tomorrow so we decided to celebrate on Sunday night at a new Mexican restaurant on the waterfront,
Temazcal Tequila Cantina
. We sat down at a table overlooking the boardwalk and water which was beautiful. We looked over the menu (which was on an iPad) while we ordered some drinks. 
Joe and Abigail
The meal started with some festive drinks and chips and dips. They gave you three different dips, one spicy, one sweet and one bean dip, which were all very delicious.

Delicious Sangria
After we snacked on those for a little we ordered the Guacamole Langosta, which was a delicious guacamole dip with chunks of lobster mixed in, can you say delicious!
Lobster Guacamole, does it get any better?
After we digested the chips, dip and guacamole we moved on the main course. I ordered the beer battered fish tacos, which were absolutely delicious. I usually don't like to order fried items but I just love trying fish tacos everywhere I go. My sister went with the Mahi Mahi, my mom ordered the grilled chicken with avocados, tomatoes, onion and salsa, and all three of the guys ordered the enchiladas verde.
Fish Tacos
Mahi Mahi
Enchiladas Verde
For dessert we headed back to my house for ice cream cake which I made. It is the best dessert and super easy. You take an oreo pie crust then fill it with softened ice cream (moose tracks is the flavor my mo wanted) then top it with cool whip and any topping you wish. Since I did moose tracks ice cream I kept with the peanut butter flavor and topped the pie with peanut butter chip morsels.
Question: What is your favorite Mexican dish?