Welcome to another week of WIAW inspired by Jenn over at
Peas and Crayons
.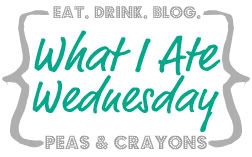 Breakfast was some oats with chunky peanut butter topped with a few raisins and a large toasted coconut iced coffee with a little soy milk. I'm usually not a huge fan of oats but I didn't go food shopping yet so it was my only option really but it was actually pretty tasty the way I prepared it.
Lunch was a mango salad no dressing with chicken from Qdoba. After a long weekend of eating some not so healthy things I needed some greens and vegetables.
After work yesterday I had a Pilates session and Joe had a softball game so we just grabbed dinner at a local Italian place. I went with a pizza which had caramelized onions and fresh arugula with light cheese well done. It was delicious and fairly light for pizza and I love that it is brick oven pizza makes a big difference.

Question: What are your feelings on oats?
P.S. If anyone lives in the Boston area their is a great deal for a month of unlimited Boot Camp in South Boston for $25 on Living Social today.