Welcome to another week of WIAW. Hop on over to
Peas and Crayons
to join in on the party.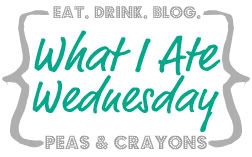 Yesterday morning I finally made a green monster smoothie and it was delicious. It will be the first of many for sure! In the smoothie I had almond milk, chia seeds, protein powder, spinach, raspberries and ice.
Lunch was a mango salad with chicken from Qdoba with extra guacamole. I can't believe how many people don't like guacamole, I wouldn't know what to do without it.
Dinner was easy and so delicious. I had bought some homemade raviolis from Whole Foods which I made with Newman's Own Fra Diavolo sauce (which I want to try on pizza next). I bought plain cheese raviolis which were just okay (I tried one) and vegan veggie raviolis which were to die for! If you live near a Whole Foods you need to try these.
Question: How do you feel about guacamole, love it or hate it?