It's that time of week again for WIAW post inspired by
Jen at Peas and Crayons.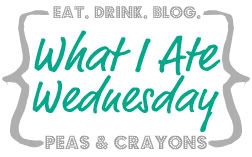 I have been obsessed with Green Monster smoothies since I finally had the courage to try one. I think I have had one every morning for the past week.
Ingredients in my Green Monster
Lunch was a spinach salad with shredded rotisserie chicken, strawberries, green apple and walnuts (no dressing) with a side of whole wheat bread.
Dinner was supposed to be chicken pot pie but I ended up running and having a personal training session last night so instead Joe and I just grabbed dinner. I got a Thai chicken wrap from The Healthy Kitchen and it was delicious. The wrap had chicken, shredded carrots, cucumbers, brown rice and peanut sauce.
Quest
ion
:
Do you like dressing with your salad or do you eat it dry?