Happy
WIAW
, you know what that means we are half way through the week!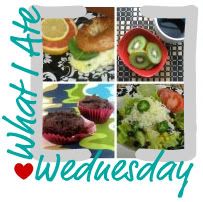 Last night I decided to make homemade pizza for dinner. I started with fresh dough from the store, one was multi grain and the other basil. Both were delicious and rose well. I placed them in the oven for about 5 minutes once they were rolled out to get them cooked a little prior to adding my toppings.
Basil Dough
Multi Grain Dough
Once they looked a little cooked I grabbed them out of the oven and added my toppings. On the basil dough one I just did a traditional sauce and cheese. On the multi grain I put on the sauce then added uncooked pepper and onions then the cheese.
Once the cheese was melted and the crust was crispy I removed them from the oven. I topped the plain cheese with some fresh arugula to get some veggies in on that one too.
The doughs on both were delicious, I will be using them again next time I decide to make pizza.
Question: What is your favorite pizza topping?